WORKER RESOURCES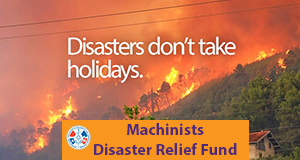 Here is a link to a page full of usefull resources :
https://www.goiam.org/resources/
HERE IS A LINK TO THE FMLA HANDBOOK...CHECK IT OUT IF YOU HAVE ANY QUESTIONS BY CLICKING ON THE PICTURE ABOVE.
Worker Resources
Click here to download survival guide
William W. Winpisinger Education & Technology Center As we enter the new century, the only way to keep up with change is with education. The William W. Winpisinger Education and Technology Center is the IAM's most visible sign of our commitment to provide a world class educational facility to train future IAM leaders.
The Winpisinger Center teaches what it is to be a trade unionist. By studying labor history and the role unions play in our society, students learn that unions are more than service organizations. We are part of a larger movement toward economic and social justice with dignity on the job.
Our numbers are strong and they keep growing stronger . . . growing to give you a more secure financial future, both tomorrow and well into the 21st Century.
National IAM Benefit Trust Fund The National I.A.M. Benefit Trust Fund is a Non-Profit Health and Welfare Fund, offering Comprehensive Healthcare Plans, nationwide.
Proudly serving the I.A.M. Membership for over a quarter century, we have earned a reputation for Responsive, Personalized service.
Contact your IAM Representative, or the Fund Office to find out what the Benefit Trust Fund can offer you!
Retirees, Community and Membership Services Department of the IAM
Frequently Asked Questions About Unions
What is the Labor Movement?
Labor unions are groups of workers organizing and taking collective action to improve their lives. The labor movement is all unions, union members and union organizations acting collectively.
There are approximately 15 million workers in unions and employee associations in the United States and approximately 4.5 million union workers in Canada. Read more
The Coalition of Labor Union Women
The Coalition of Labor Union Women is America's only national organization for union women. Formed in 1974, CLUW is a nonpartisan organization within the union movement. Read more
_______________________________________________________________________________
The IAMAW has started a face book page and a web page to meet the concerns of our younger members. The purpose of these sites is to help educate and meet the concerns of Young Machinists. E-mails, questions and suggestions are encouraged. Please visit the following sites:
www.facebook.com/YoungMachinists
http://youngmachinists.iamaw.org
Email your questions or suggestions to: